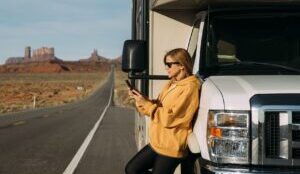 RV Education
RV's are more complicated than ever before. From automatic leveling systems, to controlling your lights and slides with your phone, everything is computerized these days. For many people, this is a great thing. It also means using all the features of your RV is not as straightforward as it used to be.
Unfortunately, many salesman/women are of no help when it comes to answering questions. They know what the brochure says, but they couldn't tell you how to operate your particular RV.
As full time RV'ers, we at That Mobile RV Guy understand. That's why we stay up to date with the latest RV technology. We can answer whatever questions you have regarding your RV. Our RV education is better than YouTube because we can tailor the answers to you and your particular RV. Give us a call today to set up a time for us to answer your questions.
Complete walk through
We can come out and spend time walking through how to use everything in your RV. From unhooking your trailer or toad to getting your RV level to hooking up water/electric to using your water heater, our knowlegable RV technician can give you hands on instruction.
Become an RVing expert in less than a day. And the best thing about it: we can do it where ever your RV is. We can walk through your RV at a local campground or in your driveway. Whatever is convenient for you.
RV question and answer
Maybe you don't need a complete RV walkthrough, but you simply have a couple of questions. How many grey tanks do I have? What does this button do? How do I keep from tripping my breakers?
There are no dumb questions, but there are a lot of dumb answers. And unfortunately you can find videos online for every type of RV except yours. Let That Mobile RV Guy help you take the uncertainty of using your RV.
teaching opportunities
That Mobile RV Guy can come to your event or campground and help educate a group of RVers. From Good Sam Rallies to educational classes at a campground, we can help educate any size group.
Our RV technician has experience teaching to crowds of all sizes and can connect with any age group. From basics of RVing, difference between AC and DC power, to solar technology, we can tailor our classes to your group or crowd.
Location
Service Area:
We are currently outside of Florida traveling. We will return in the Fall. Follow us on Facebook to see if we'll be in your area.
Contact
Need additional assistance? Please contact us:
888-557-8489
Hours
That Mobile RV Guy is open Monday to Friday, from 9am to 5pm and Saturday by appointment.